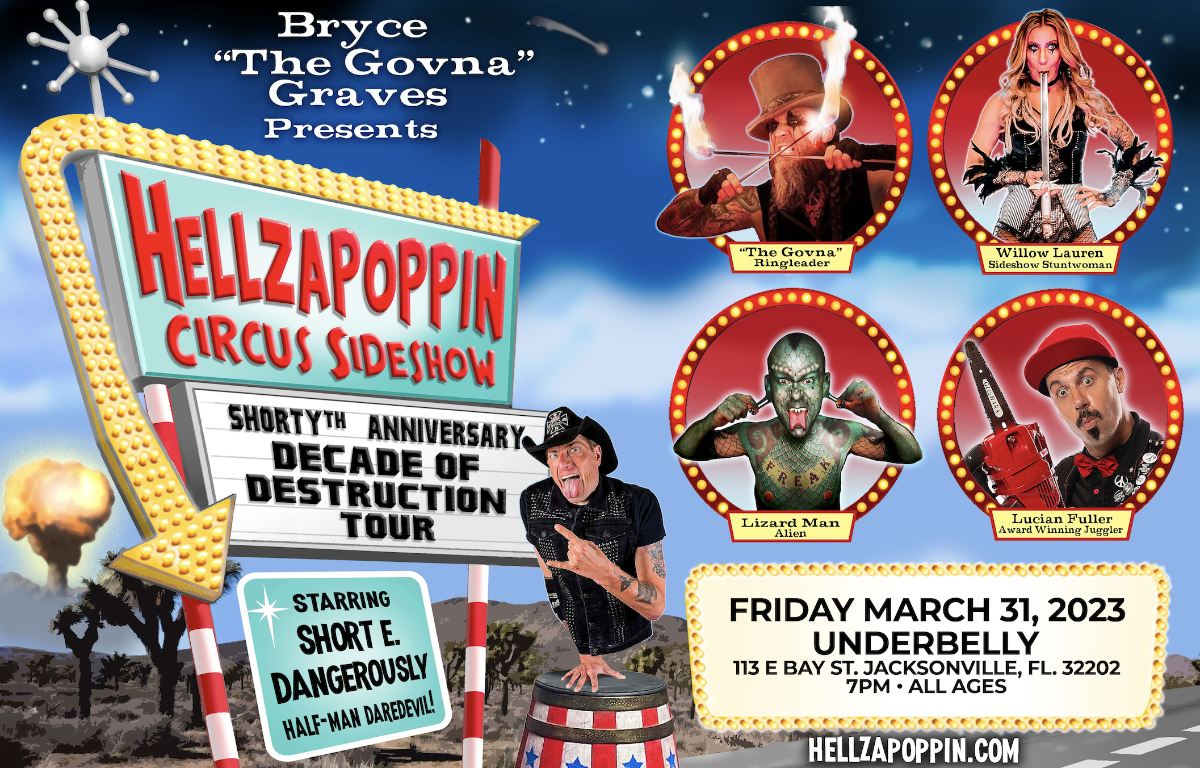 HELLZAPOPPIN: Circus Sideshow 2023 in Jacksonville
Fri | Mar 31
8:00 pm
(Doors:

7:00 pm

)
Bryce "The Govna" Graves Presents… HELLZAPOPPIN: SHORTYth ANNIVERSARY DECADE OF DESTRUCTION TOUR!
Named after the most successful Broadway Musical and Movie from the late 30's and 40's, Hellzapoppin is the world's largest international touring rock-n-roll circus sideshow. This Super-Group vaudeville freak show of wonder has performed well over 3,000 shows and in 16 countries. They've toured with some of the biggest and most famous rock bands on the planet. Spectators will experience one of the world's last authentic circus sideshows featuring death defying stunts using the human anatomy and demonstrations of mind over matter, yet with no blood and no pain. You've seen these world famous performers on AMC's Freak Show, Ripley's Believe It Not, Guinness World Records, Discovery Channel, Travel Channel, America's Got Talent and more. Hellzapoppin features dangerous record breaking LIVE stunts like fire eating and fire breathing, magic and illusions, acrobatic stunts, hand balancing, sword swallowing, juggling, unicycling and more. You'll see human curiosities such as a real live half-man that is cut in half at the waist and walks bare-handed on razor sharp broken shards of glass...while on fire!
GA Standing Room Only Ticket: $20 This is a standing room, general admission ticket only.
GA Guaranteed Seat: $40 This ticket guarantees you a seat so you don't have the stand the whole time!
GA Guaranteed Seat + Meet & Greet: $75 This ticket guarantee's you a seat and the opportunity to meet the Hellzapoppin touring cast. We'd love to meet you and shake your hand; we'll be available for photos, autographs and brief conversations. This takes place right after the show. Hellzapoppin have such an amazing show planned for this tour.
GA Private Meet & Greet: $150 This ticket is the private Meet & Greet ticket. Got any burning questions? This ticket guarantee's you five minutes alone with the Hellzapoppin cast. Plus you get a guaranteed seat and the opportunity to meet the Hellzapoppin cast after the show. This private Meet & Greet with us takes place at 5pm, so please show up on time if you plan on doing this.
FREAK SHOW TICKET: $500 This is only for the die-hards. You want to know how we do our stunts? This is the ticket for you. This ticket guarantee's access to us, for the day, and you'll get a look behind the scenes, hear stories, and see things it took a lifetime to master. This ticket guarantee's you a front row seat, one of every item from the merch table*, and bragging rights, for life.

7PM • ALL AGES
www.LeoPresents.com
---