Clan of Xymox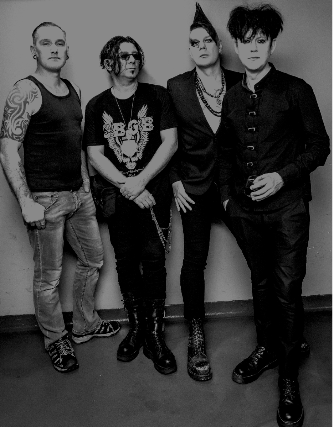 Since their formation in their native Holland their music has been constantly changing, always challenging and often quite breathtaking. Some of us have always been of the opinion that XYMOX are something special. A band fired by electronic music but determined, always, to make something that is very much their own. They are unique. Clan of Xymox, during the years released many hit and cult albums since their signing with 4AD (UK) . Later signed to Universal Music (USA) and now Trisol (EU) & Metropolis Records (USA).

A steady flow of critically acclaimed albums were released such as: Creatures ('99), Notes Of The Underground (2001) , Farewell (2003), Breaking Point (2006) , In Love We Trust (2009) , Darkest Hour (2011) " Matters Of Mind, Body and Soul " (2014) another timeless, deeply emotional Gothic record. In 2017 the last 5 star album " Days Of Black" was released of which most said that CLAN OF XYMOX have reached a new, perhaps even their highest peak, or ...?

So far the band has released 16 studio albums, 2 DVD's, a Remix and Live album , "Best Of" and even a cover album named" Kindred Spirits"(2012), giving ode to Ronny's past influences.

July 2020 will see a brand new studio album , named " Spider On The Wall ". The single "She " was released on Valentines Day containing also remixes of " She Past Away ", "Ash Code " Bragolin & "Antipole" (with a remix of " Loneliness ". T It will set the taste for more tracks to come. It already rocketed to number 2 of the DAC charts on the moment of its release and went straight to number one the week after. A new video of " She " coincided with the release , directed by Zoe Kavanagh.

In Mai a second single " Lovers" will be released with remixes of The Actors, Hante and Selofan. The B-Side is a new version of "Going Round " already played live since last year.

The band tours constantly successfully around the globe from Stadium to normal clubs , so now they are here for you to see live in action , meet again or to get to know them.

Clan Of Xymox LIVE are:

Ronny Moorings : vox, guitar, melodica,
Mojca Zugna : bass.
Mario Usai : guitar / bass.
Sean Goebel : Keys , backing vox.
Daniel Hoffmann : FX & Sequencer.
Live sound mixing by Sebastian Ludwig & Damon Fries.

Ronny Moorings is the founding member and mastermind of Clan Of Xymox. He writes and records all his songs in his own studio "The Torture Chamber".
Social Links